Boss It Up in Baja
Join us for a six day adventure into the Heart & Sol of the Baja peninsula.
IF YOU ARE LOOKING TO UNWIND & RECHARGE - COLLABORATE, CONNECT AND GROW - TAKE A STEP BACK & REGROUP IN LIFE OR BUSINESS
- ADVENTURE AND ACTIVATE YOUR ENERGY CENTER - THIS IS THE #WELLNESSADVENTURE FOR YOU!
AWAKEN YOUR MIND
Cultivate the art of MINDFULNESS in a guided Yoga Nidra practice each evening to connect with your Divine voice inside you and unlock the key to success in our goals.

Open and expand under the NIGHT SKY OF THE FULL MOON with a guided intention setting ceremony.

Delve into your passions and the purpose for which you were created - aligning where you are, where you have been and where you want to go!

Facilitated discussion, journaling and group exercises will help you identify your limiting beliefs and roadblocks to where you want to be in life, business and relationships. Coupled with intentional work to set goals with a step-by-step action plan to achieve them upon returning home.

Seize the chance to take a (supported) step back so you can align and ground in your mission / purpose and reignite your passion for what you do!

Deepen your knowledge with workshop activities focused on elevating your role as a woman in business, influencer, entrepreneur or wellness professional! Utilizing the 8 limbs we will explore how to LIVE our yoga off and on the mat as well as the Yamas and Niyamas to help us guide the path to living our best (and most authentic lives).
MOVE YOUR BODY
Greet the day with sunrise Yoga and/or a group workout with licensed fitness instructors that will energetically fill you with motivation and clarity on your goals and dreams.

When in Mexico, we DANCE!

Hike, tour, sight see, swim, snorkel and soak in all Baja has to offer - land and sea!

Tour the nearby city during an excursion opportunity to shop, sight see, explore the culture and diversity of Todos Santos.

Visit a local beach club during an excursion afternoon in Todos Santos and enjoy the infinity pool overlooking the ocean.
Take a walk on the beach or enjoy fresh seafood while basking in the sun.

Explore with your hosts for guided adventures including SUP and Kayaking.

Choose the optional SERVICE DAY to partner with Street Dog Hero and volunteer with their annual spay & neuter clinic for local dogs and cats!
NOURISH YOUR SOUL
TAKE TIME to focus on you, your vision for your life and your dreams and become in tune with our own inherent gifts, and the law of the attraction.

Participate in an act of wonder as we release hatchling turtles into the ocean to begin their life!* (upon availability)

Dive into your shakti to awaken and ignite your innate gifts and abilities with community, introspection and laughter!

Enjoy locally sourced meals made-for-you daily (vegan/vegetarian) from an on-site chef!

Learn to prepare a wholesome meal in a unique cooking class designed just for us and our taste buds!

Laugh (a LOT), explore your creative side and make new meaningful relationships and life-long friendships with opportunities for creative expression in art, music and dance! Do you play an instrument? BRING IT! We will have evening campfire discussions and opportunity to fill the Mexican night sky with harmony and melody!
As if the pictures don't do itself justice! ISN'T THIS SPACE EXQUISITE?
We will be taking "Glamping" to an even Glampier level as we snuggle in for 6 days on the western coastline of the Baja peninsula. Tucked in a secluded cactus grove and steps away from the wild and beautiful pacific coastline, Gypsy Canyon is just a short drive from the town of Todos Santos. It is perfectly located for gathering, reflecting, relaxing and enjoying the incredible natural beauty of southern Baja. It will also allow you to enjoy sleeping under the stars without sacrificing the services and amenities that make your stay feel luxurious.
Your shared tent will welcome you with a queen bed and plenty of places to keep your belongings. Cabana beds and chillout zones are scattered throughout the property. And yes, there are bathrooms and electricity - all the amenities you'd find in a traditional brick and mortar space but with oodles and oodles of #instaworthy charm!! Multiple bathrooms have hot showers, luxury bath products and fantastic water pressure.
Our first evening together you'll be greeted with a full moon and a Shamanic Cleansing ritual. This first night will set the stage and lead us into an incredible week of expansive growth, adventurous fun and nourishment for both mind & body. You'll have the opportunity to take a cooking class from our personal chef, SUP or Kayak in the crystal blue waters of Balandra Bay, explore and elevate your personal business with workshops geared to impact your influence, and find deep relaxation with Yoga Nidra. It will be a full week of fueling your body and mind.
Here is an EXAMPLE ITINERARY of what you can possibly expect of a day in paradise with us:
* subject to change *
7:00 - 7:30am - Morning Coffee/Tea and a guided journal and mindfulness prompt
8:00 - 9:00am: Morning Vinyasa, Mindfulness, Nidra and/or a group workout!
9:00 - 10:30am: Breakfast and clean-up, get ready for the day!
10:30 -1:00pm: FREE TIME TO HIKE, LOUNGE, JOURNAL, DREAM, EXPLORE
OR A GROUP EXCURSION OR WORKSHOP* (see below for a list of workshop examples)
1:00 - 2:00pm: Lunch (Some days "To Go")
2:00 - 4:00pm FREE TIME TO SWIM, LOUNGE, JOURNAL, DREAM
4:00 - 6:00pm: Afternoon workshop (ex: SET YOUR SOUL ON FIRE)
6:30 - 8:00pm: Family Dinner & Clean up

8:00- 9:30pm: Group Discussion and Yoga Nidra & Campfire

Jamie Sheppard
of Roots & Wings Wellness
Hi y'all! I'm Jamie and am SO excited to connect, travel and adventure with and get to know you! I'm ready to link arms with you for a LIFE CHANGING EXPERIENCE together!.

I hail from Bend, Oregon where I live with my husband Jamie (#JamieSquared) and our NINE fur-babies (5 dogs, 4 cats). I am passionate about empowering women in my career as a lifestyle & wellness coach. I have made it my life's work to help women live the fullest extent of their ability and purpose while also contributing to our surrounding communities to leave each encounter better than we found it.

I am a RYT 400 (two RYT 200s), have my MEd in School Counseling, YogaCalm© certified and am the founder of ROOTS & WINGS WELLNESS | HEART & SOL ADVENTURES. I have spent my years "Adulting" as a school counselor, waitress and outdoor adventure guide (rafting, rock climbing, ropes course facilitating and summer camp guru) - 'hats' that I have hung up to create the space for the pursuits I have now - running a virtual coaching business, investing in local start-ups in Bend and hosting incredible travel / wellness adventures for incredible humans LIKE THIS ONE!

I am passionate about helping women, men and families live healthier and more fulfilling lives; I strive to make fitness fun for all, nutrition simple and to educate on the importance of detoxing, eating clean and learning to be in-tune with our bodies. All of this in the spirit of self love and gratitude. I am passionate about mental health and teaching the foundational skills of gratitude, goal-setting, positive self talk/ affirmations and manifesting one's dreams & desires (while also putting in the elbow grease to earn the things we want).
I'm so honored to guide you on this experience and self-discovery and I know we will have a life changing time and make forever memories. I believe we are stewards on this EARTH and have a responsibility to protect and advocate for our planet and social injustice in our world/country! Service, environmentalism and advocacy is interwoven in ALL that I do.

6 years into entrepreneurship and reaching the highest achievements and milestones in my fitness coaching business have cultivated in me a PASSION for helping other dreamers and entrepreneurs identify their dreams and believe in their greatness (because YOU, my friend, are a phenomenal and capable being!!) … and help them ACHIEVE IT! Nothing fuels MY soul more than mentoring other entrepreneurs in building the life of their dreams, achieving freedom and making an impact on the world. BUT IT IS HARD, RIGHT?? Business, entre-leadership, social media, sales - it is gosh dang hard WORK and without the support of my mentors and guides along the way I would have been so lost. So now I pay the skills and knowledge I have forward to help others blaze their trail to greatness too!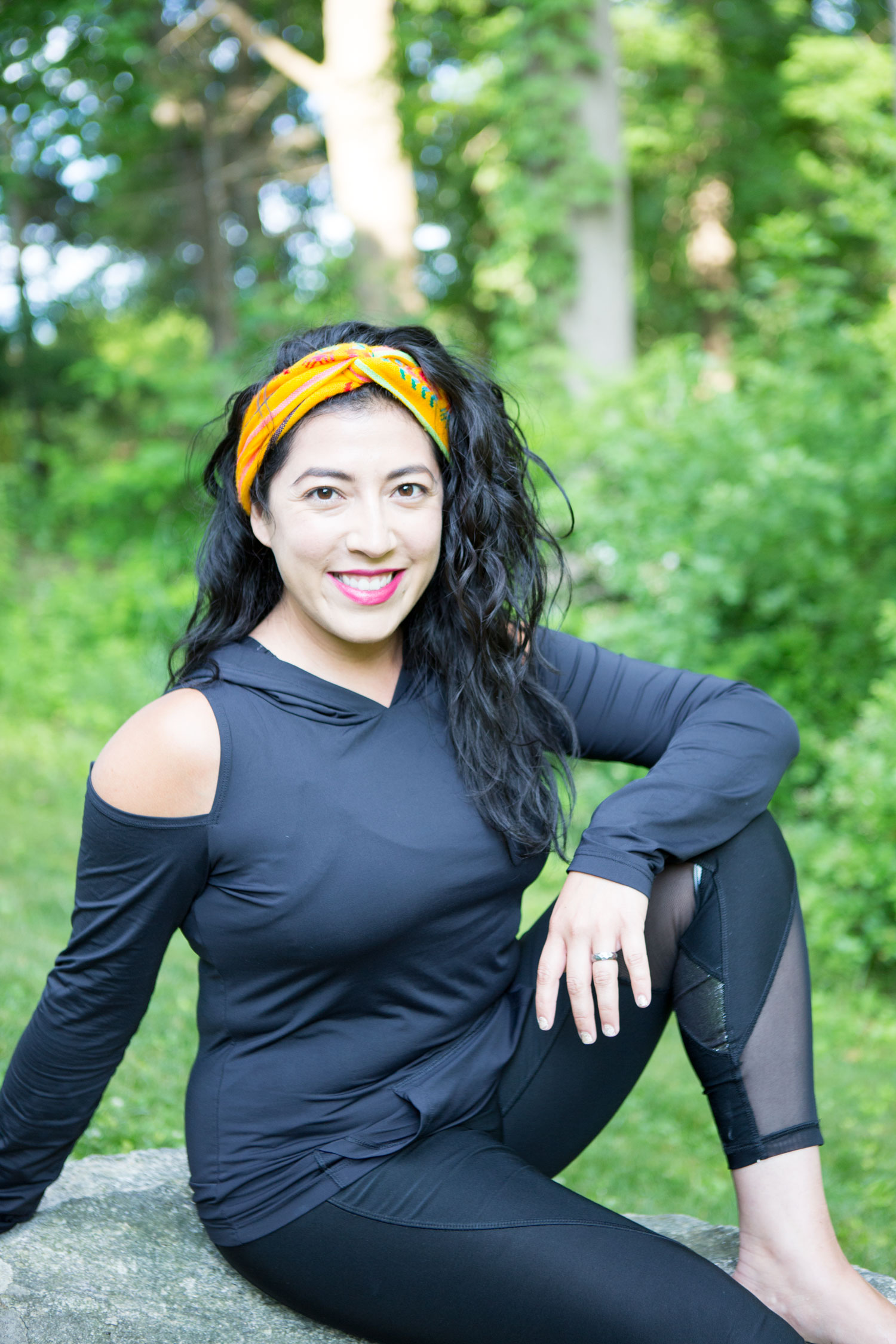 Nicole Diaz of Nutmeg Yoga
"You are one step and one breath away from finding your peace in nature"
- these are words I live by.
Hola, I'm Nicole, a native Texan who curates yoga hiking adventures across Connecticut. I am passionate about making yoga + hiking accessible to all because I believe both are powerful tools to build a stronger mind, body, and spirit of resilience to meet life's challenges.
As a social worker, yoga + hiking helped me create balance and cultivate compassion not only for myself but the families I strived to empower with the skills needed to provide a safe environment for abused children.
I hold certifications in RYT 200, Wilderness First Aid, American Red Cross CPR and am pursuing independent study as a Master Naturalist to better inspire the next generation of conservationists.
Off my mat/trails, I can be found teaching aqua-zumba in the Caribbean and demonstrating my love languages of acts of service + quality time to family and friends by cooking them healthyish farm-to-table Latinx meals. Facilitating opportunitites for people to connect to themselves and the great outdoors brings me joy and I look forward to supporting you in your growth journey on this one wild planet we share y'all.
BOOKING TERMS & CONDITIONS
A $500 USD Non Refundable deposit will secure your spot on the retreat or you may choose to pay in full. The remaining balance is due October 31st, 2019 (a reminder will be sent two weeks prior to the due date). Monthly payment plans are also available, please refer to FAQ for more information. Please note, failure to make payment by October 31st, 2019 will forfeit your spot on the retreat. Each applicant will receive a 1:1 phone call with Jamie to ensure expectations are clearly aligned and all questions or concerns are answered.
Please do not book your flight until you have received a confirmation to do so. When it is time to book your flight, you will be provided with instructions on when to arrive so your airport transfer can be provided.
Travel insurance (medical & trip cancellation) is mandatory to protect you in case of any unforeseen emergencies.
All deposits & payments are non refundable. Payments will only be refunded if the trip is canceled due to low enrollment.
WHAT'S INCLUDED IN THE $2250 RETREAT COST
6 Days, 5 Nights Accommodation
Your stay at Gypsy Canyon and all its amenities + rich and full daily agenda as detailed above!!
All Meals
Beginning with dinner on the 12th, with our final meal together the morning of the 17th. Vegan & Vegetarian breakfast, lunch and dinner
Balandra Bay Day Trip
Spend a day playing in a beautiful secluded bay. Splash and swim in shallow, sparkling waters or try out a kayak or Stand Up Paddleboard

Todos Santos Day Trip & Beach Club
Enjoy a 1/2 day exploring Todos Santos (home of Hotel California)
Daily Yoga / Nidra
Classes will be a mixture of Vinyasa, Power Yoga, Yoga Nidra and Meditation led by Nicole Diaz and Jamie Sheppard
Virtual Influence Workshops
This progressive course will be integrated throughout the week together and is intentionally crafted to help you grow in your business or personal pursuits. Each workshop is themed around an element vital to growth and success. As an example - identifying and releasing limiting beliefs, getting unstuck, tuning into your intuition, understanding & mastery in your social media platforms, photography, opening your throat chakra to tune into your message and purpose, finding your power in leadership from a place of service, prana and shakti, cultivating JOY in your work and team, setting goals and manifesting success and SO MUCH MORE!
Native Shamanic Cleansing Ceremony
During the full moon the local shaman will perform an energy cleansing ritual around the fire, including sacred herbs and plants.

Culture & Language Training
Spanish Language & Mexican Culture Crash Course and Tutorials (Jamie and Nicole are fluent Spanish speakers)

Baby Turtle Release* (dependent on hatchling timing)
Participate in TRUE WONDER as we help guide baby hatchling turtles into the sea to begin their life!

Service Project w/ an Animal Rescue
Opportunity for Community Service with a local Dog & Puppy Rescue in their annual spay/neuter clinic!

Swag Bag of Gifts & Goodies & Photo Shoots
Clothes & items to use/ share and professional photograph/ head shots you can use for self promotion or forever memories!
Airport Transfer
Roundtrip Group transfer from the Los Cabos International Airport (SJD) at pre-selected times on the morning of the 12th and afternoon of the 17th.
Or pick/up in Todos Santos on the 12th and drop off on the 17th (airport shuttles available). Rental cars are also an option from the Los Cabos International Airport (SJD)
WHAT'S NOT INCLUDED
Airfare
Arrive to Los Cabos International Airport (SJD)
Travel Visa or Passport
Please check for entry/exit requirements based on the passport you hold https://www.us-passport-service-guide.com/mexico-entry-requirements.html
Travel Insurance
Traveler must purchase travel insurance and provide proof prior to departure
Additional Activities
Optional add-on activities can be arranged during free time - this could potentially include surfing, horseback riding and more.
Gratuities & Souvenirs
Traveler discretion
LOCATION - 10 Minutes outside Todos Santos, Baja, Mexico (home of 'hotel california')
FAQ - Frequently Asked Questions
1. Who can attend this retreat?
This retreat is designed for a wide range of women who are looking for adventure, relaxation, yoga and activity, as well as learning skills to improve their business. If you are a good person, have a heart for community, can embrace a "go with the flow" spirit (which means leave negativity at home) and desire to foster growth, creativity and adventure in your life then you are welcome! It doesn't matter what your level of experience is with business or yoga or even travel - our yoga is attainable for the least to most experienced yogi. We are an adventurous crew, so if you have any limitations, we ask that you let us know prior to your arrival.
2. I don't have anyone to go with and I've never traveled before. Can I come alone?
Absolutely! Before we begin our journeys into Baja, we will guide and prepare you as much as possible for the retreat. This includes your travel. You will be asked to join our group communication so we can all check in with each other. You'll also be able to update us as you travel and also follow along with the rest of the group. You will have community support and a group of incredible new friends. So, though you may decide to commit to this journey alone, you will forever be connected to this community when you depart.
3. What do I need to pack?
Things to move in, to travel in and to relax in. We will send you a list of our best suggestions before your retreat!
4. Why is travel insurance mandatory?
This is to protect you in case of any unforeseen circumstances.
5. Do you offer monthly payment plans?
Yes! Once you've paid the deposit amount, the remainder of your balance can be split and paid by the remaining months left until the full balance is due. For example, if the total retreat is $2,150 USD and you pay your deposit in November - starting from December to April (5 months) you will pay a monthly fee of $330 USD. If you would like this option, once you've paid your deposit please email us at teamwildreign@gmail.com to set up a payment plan for you.
CHECK OUT BOOKING OPTIONS & LINKS HERE: